Website & SEO Audit Service
"50%+ of businesses claim driving leads and traffic to a site is their biggest challenge – don't miss out on potential revenue because of poor website or SEO targeting"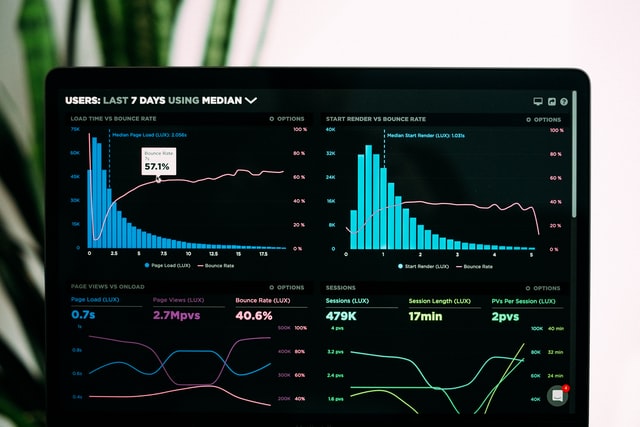 What Is an SEO or Website Audit? 
There are a lot of websites – over 1.7 billion. Only a small percentage of these sites will ever rank on the top of Google and reach their true potential. Our SEO audit service can help your business stand out from the crowd, rank higher, drive more leads and grow your revenue.
A lot of elements go into an audit from the keywords you use in your copy to code, meta tags and on-page search engine optimization. 
As SEO audit services continue to evolve, it's important for sites to be reexamined, copy to be updated, keywords to change and new strategies be put in place to capture organic search traffic. 
What's an SEO Audit Service?
Your site needs a plan to understand why you're not ranking where you should be. Without having a complete picture of your site, what's missing and the foundation you have, it's difficult to create strategies that will be fruitful. 
Since only 5.7% of pages rank in the top 10 search results in the first year of publication and over 90% of pages get zero traffic from Google, you need a plan in place. 
Our site audit services are the basis for any plan to drive more organic traffic to your site. 
Elements of an
SEO Site Audit 
When we start analyzing your site's search engine optimization, we'll look at a lot of categories, including: 
Content 

On-page SEO  

Off-site problems 

User experience 

Technical SEO audit 
Multiple elements are included in this audit: 
Keyword analysis 

Title tags 

Meta descriptions 

Images and video 

Loading time 

Sitemap issues 

Internal linking 

Crawlability 

Content structure 

Competitor analysis 

Schema 

Header usage 

Image alt tag optimization 

Mixed content issues 

Duplicate content 

Backlink analysis 

Anchor text usage 

HTTP status codes 

Load time 

Mobile-friendliness 

Redirect loops

Robots.txt files

More 
Technical SEO is an important part of every audit. When you own a site, pages may be removed and redirected over time. Some content or service pages, for example, may no longer be relevant, but they may bring in traffic and have a lot of links pointing to them.
When we perform a website SEO audit, we analyze the technical aspects of the site, too.
A single, silly mistake can cause you to lose traffic and revenue. Redirect chains, which are so easy to make, can lead to an infinite loop. Plugins or a developer building a site may change your robots.txt to be "noindex," and crawlers will never index the site. 
We look for these common technical SEO errors that are easily overlooked and complex, hard-to-find issues, too. It's our job to scrutinize all aspects of your site and make corrections to give your site the opportunity to rank as high as possible.
A "one size fits all" approach is not what we offer. Situational analysis, with a focus on your site's and marketing's goals, is ideal. We focus on areas that are a top priority at the start, allowing for a comprehensive SEO strategy to be planned and executed. 
What's a Website Audit Service? 
A website audit service has a lot of overlap with an SEO service because performance often relies on the website itself. You can drive traffic to your site, but what happens if the traffic never converts? 
SEO is just one piece of the puzzle. To get results, you have to look at the complete picture. 
Elements of a Website Audit 
When we analyze your site, we'll dig deep into the following categories: 
Traffic 

Functionality 

Site health 

User engagement 

User experience 

Website performance 
A single bad experience on a site can lead to 88% of visitors being less likely to return to your site. Even more important, you may have top rankings and high levels of traffic with only a small percentage of leads turning into sales. 
Small changes can increase sales with your existing traffic quickly. One study found that 70% of businesses didn't have a call-to-action (CTA) on their site. If your site isn't telling visitors the steps to take next, such as what number to call or to click to buy, you're missing out on revenue. 
These elements and more are analyzed with our site audit services, including: 
Navigation 

Usability 

Load speed 

Bounce rate 

Content analysis 

Code quality 

Dwell time 

Mobile-friendly design with mobile-first indexing in mind 

Call-to-actions 

Low and high converting pages 
As you've probably noticed, there's a lot of overlap with a website and SEO audit. Combining the two into one large analysis allows us to correct issues on your site faster and more efficiently. 
Tools can be used to help speed up the process of a website SEO audit and automate tasks that don't need manual input.  
SEO Audit Tools 
Algorithm updates can cause a high-traffic website to lose a large portion of visitors overnight. Tools can help gather information rapidly to get a better idea of a site's SEO and weak points. This leads to a better understanding of potential changes that need to be made. 
We use tools to help speed up the audit time, but they're only a part of the process. 
Manual analysis of the data that's collected is required to understand which changes are a top priority and which will have the biggest impact on your site's SEO. 
A few of the tools that are used in an SEO audit are: 
You'll find a few, free SEO audit services that cover the basics, but they're not in-depth enough for most websites. 
Major analysis can also be done on three of the most important aspects of a site's SEO and content: 
Keyword analysis 

Competitor analysis 

Content quality analysis 
Let's look at how to properly audit all three of these elements. 
Keyword Analysis 
Every day, there are 3.5 billion searches completed on Google. Annually, up to 20% of searches are new and weren't searched the year prior. When we conduct keyword research for a site, we look for keywords that: 
Offer potential to drive traffic 

You can compete for in the search rankings 
But we also start with a full keyword analysis. Audits are about what you're doing now and what you can be doing differently. 
When we conduct an analysis for you, we'll be looking at:
Keywords that bring traffic to your site 

Search phrases that bring traffic to your site 
Traffic can come from organic search or paid search. The idea is simple: If you know what queries are driving traffic to your site, you can optimize your landing pages properly. 
Decisions can be made that will help: 
Find new markets to explore 

Optimize ad spending 

Increase conversions 
A full analysis of your keywords can help an SEO expert or PPC manager: 
Uncover new trends 

Eliminate spending on keywords that aren't converting 

Prioritize time spent on optimization 
While time-consuming and repetitive, it's important that an in-depth analysis be performed to help better understand your audience, boost spending in the right places and scale back spending in others. 
Competitor Analysis 
We want our clients to have a competitive edge. Others in your industry are working to increase their market share, and perhaps some of these companies are already leaders in their industries. 
You can use their SEO efforts to better understand what: 
Is the competitor on social media? Do they focus strongly on their SEO performance, or do they purchase their traffic? 
An SEO audit report helps you understand what others in your industry are doing so that you can build off of their success.
When analyzing the competition, we're able to pull out valuable information, such as: 
Top-ranking keywords 

Optimized keywords 

Most shared pages 

Most popular content 

Where competitors are paying for advertising 
Your competitors might also be marketing and appealing to different customer segments than you are.  
A full link audit can also be conducted. The audit will provide insight into who is talking about your competitors and how they've been able to achieve their rankings. This information can help shape your marketing strategy using proven techniques that are working for others in your niche. 
Content Quality Analysis 
Content audits have grown increasingly important in recent years. Search engines and users both demand high-quality content. If your content is missing the mark, you're going to lose money. 
Ideally, a content audit will be done annually to have a better understanding of how your content marketing strategy is working and can be improved. 
An audit may include: 
Top-performing content 

Low-performing content 

Full content inventory 
The audit can determine: which content should be updated, missed keyword opportunities, which topics resonate best with your audience, and which posts are no longer relevant for an audience.
You must make a good first impression, and pruning posts or content that are no longer relevant may open opportunities to appeal to visitors. 
The audit can: 
Identify pages with high traffic and low conversions 

Generate ideas for new content 

Locate gaps in your sales funnel 

Identify overlapping content 
Key Performance Indicators (KPI) are used to provide a qualitative assessment and evaluation of the content. An SEO site audit should look at your current content, how it's ranking and what changes you can make to maximize the benefits of your content.
How Long Does an SEO/Website Audit Take and What's the Process? 
If you contact us for an audit, several factors need to be considered first: 
What type of audit should be performed?  

Is an SEO agency already working on the site? 

How many pages does the site have? 
We provide completion estimates on a case-by-case basis so that you're never waiting longer than expected for your SEO audit services. Typically, an audit can take 2 to 6 weeks, but we don't believe in the "one size fits all" approach. 
There's also the question of whether you want us to carry out the changes that we recommend. 
When you first contact us about our service, we'll: 
Consult with you on your goals 

Examine your site 

Recommend audit services based on our findings 

Conduct an audit upon your approval 

Provide you with an SEO audit report

Discuss our findings with you 

Proceed with correcting issues that we find

if you request us to do so

 
A full, comprehensive SEO audit can reveal significant issues with your site, or your site may have been well-optimized and minimal changes need to be made – we don't know for sure yet. 
Click here to speak to one of our site audit specialists to increase your site's rankings and revenue.