Did your rankings from Google disappear? If you've been working on your site or even abandoned your site, rankings fluctuate. Sometimes, people do nearly everything properly and find that their Google ranking dropped dramatically. But why? Unfortunately, there's no single answer that explains why your Google ranking drop occurred. You may have been replatforming and a technical issue impacted your site. An update may have been made to Google's algorithm, poor quality links may be negatively impacting your site, or they may be some other issue. Whenever we have a client say, "my Google ranking suddenly dropped," we take a series of steps to figure out the main cause of lost organic traffic.
Step 1: Continue On With Your Site and Don't Panic
If you're a small site owner, an SEO ranking drop can be discouraging and zap any motivation you have away. Enterprises, on the other hand, invest a significant amount of money into their sites, and even if they lose motivation, they need to continue on with their:
Content strategy
Marketing strategy
Social media campaigns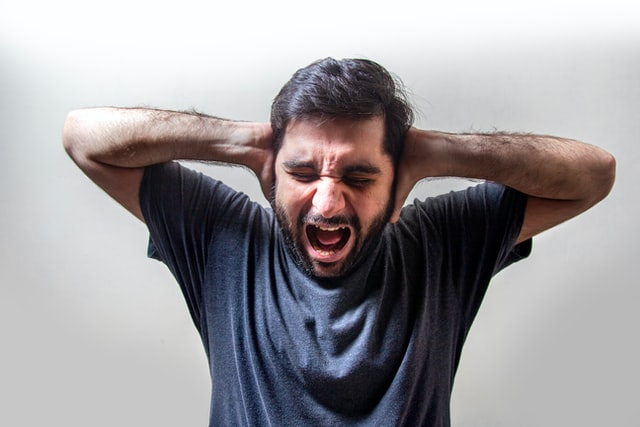 Panicking won't help you learn how rankings from Google disappear overnight. Instead, breathe, and wait it out. Google is fickle. It's not uncommon for rankings to drop one day and be back to normal the next. If you notice your rankings fall, wait a few days for them to bounce back. When your ranking drop lasts for a few days, you must take a strategic approach to solve this issue. The next dozen or so steps below go into great detail on how to fix common issues that may see your rankings go from 1 or 2 to 100+. However, unless you're doing something inherently bad, such as blackhat SEO, you can get your site's rankings back. It's crucial to remember a quote from Google's John Mueller here, "Sites don't get permanently removed from Google – there's always a way to get the site indexed again." Even if you have a lot of work to do, there is a path back from a sudden drop in organic traffic. The steps below can help.
Step 2: Verify the Google Rankings Drop and Dig Into What Content was Impacted
If you have a large website with 30,000 keywords that you track and you've noticed that you have 100 keywords that are down 5 or 10 positions, you likely have nothing to worry about. A few things may be the reason for your ranking fluctuations:
Rank tracker changes
Natural ups and downs in rankings
Competition
Lost links
Small fluctuations are going to happen often. Rank trackers need time to update to match Google's UX changes, and while most trackers will make these changes rapidly, there may be a few days where your rankings are off because the platform can't fully analyze the results due to the changes made on the UX end.

  Before taking drastic measures to find out why your Google ranking dropped dramatically, we recommend that you do the following:
Go into your website's analytics and view your overall traffic. Are you still receiving your normal traffic range? Are the pages where the keyword is pointing to still receiving a good amount of traffic, or has there been a dramatic drop in visitors?
Open up your Google Search Console and view your:

Total clicks
Total impressions
Average CTR
Average position
If you're viewing a more established site, your chart (in the screenshot above) will show a drastic decline in clicks and traffic. Google Search Console allows you to click on specific keywords to see how their traffic has changed over time. Perhaps the decline isn't drastic, but if you go from 1,000 clicks to 100, there's obviously a major issue that must be addressed. Start Narrowing Down the Lost Traffic and Impact Once you have the data pointing to actual traffic loss, it's time to see the scope of the damage and begin analyzing the issue from a wider perspective. Use all of the tools at your disposal to collect the data you need, such as:
Google Search Console
Google Analytics
Ranking tracker
Using the data in all of these tools, we recommend that you open a spreadsheet, such as Google Docs and include the following information:
The search queries that lost traffic or disappeared completely
Cluster similar queries together, such as coffee, coffee beans, roasting coffee, etc.
Average previous ranking
Current position for the keywords
URL(s) impacted by the loss
Type of content
Length of the content
Feel free to add comments about a specific page or keyword that can help you make sense of the data that you have. You can also add a checkbox to the file for each keyword to mark things off that you've done, such as:
Checked to make sure that the corresponding URL is indexable
Reviewed redirects to make sure the page loads properly
The more thorough you are with your spreadsheet and data, the easier it will be the start working on terms that may have disappeared from Google. We want you to go through the data to learn if the drops are related to:
Certain content types that may be a target of core updates
Content that may be short and trigger a penalty
Certain keyword clusters that may be having issues
You'll continue using a spreadsheet throughout this entire process. While the spreadsheet may seem tedious, it's the first step I take when my website ranking is down because it provides a foundation to correct my lost rankings.
Step 3: Uncover Any Website Changes That Occurred Right Before Lost Rankings
If you're the one managing content, servers and optimization, it's easy to correlate changes you've made with lost rankings. However, when you work with companies, it's not always easy to keep track of what's going on behind the scenes.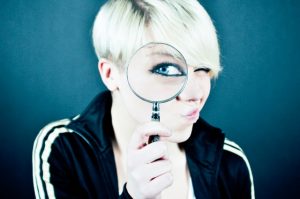 Strong governance and change tracking can certainly help you pinpoint changes that may impact rankings. First, ask everyone involved with the website about:
Changes recently made to the site
New SEO campaigns
New content added to the site
Additional plugins or code changes
You'll need to ask these questions to both internal and external teams to gain true insight into what changes may have caused rankings from Google disappear. Ask teams about any minor or major changes that have been made in the past few weeks to find things to check on to see if they're impacting rankings. Here are a few key times when we've seen Google ranking drop dramatically:
Replatforming, or migrating to new technologies or CMS
Migrations, when the site may be moved to new servers or even domain names
Redesign, especially when moving to a responsive design
Reworked content, which no longer matches the intent of the respective keywords
Internal link structure changes may have a drastic impact, too
If you recently underwent replatforming or migration, you may find the issue with your ranking drop is due to these changes. Spend time analyzing the site and pages impacted to uncover the root cause of your ranking loss. We recommend that you run a site crawler to scan your site for:
HTTP status codes, with a focus on any pages returning non-200 codes
URL changes
Issues with meta tags, especially noindex
Mazeless' Technical SEO Tool can help perform advanced quality assurance to check your entire site and pages for all:
Load times
Indexation
Heading tags
HTTP status
Links
Meta tags
More
Using the right tool can help you find hidden issues on your site that may cause your rankings on Google to disappear. Once you find the issue, it's time to take corrective action. NOTE: Start Correcting Issues on the Right Pages First If you have a larger site that you're working on and your Google ranking dropped dramatically, it can be tempting to go through every URL in order and fix issues. Instead, we recommend starting in the following order:
Pages that generate the highest revenue
Pages with the most traffic
Everything else
Whether it's your own site or a client's site that you're working on, it's crucial to restore as much revenue loss as possible. Starting with the pages that are responsible for the most revenue is always the top priority when trying to restore rankings.
Step 4: Dissect the Content on Impacted Pages
Page content is crucial to your rankings. You already know which pages have lost rankings, but now it's time to go through these pages with a fine-toothed comb to see what issues are happening on the page level that may be the key reason your website ranking dropped. We recommend that you check these pages for:
Title changes that may have occurred and led to lost traffic
Meta description changes, which are often the main reason that people aren't clicking on your site in the SERPs
Major content changes that may be impacting your rankings
Heading changes, such as removing key traffic-generating keywords from the content
If you're running a content management system, such as WordPress, you can easily view the changes that occur on your site. Otherwise, you may want to use Way Back Machine.

The Internet Archive has the Way Back Machine, which allows you to view how your site looked at the time of crawling your site. You may want to revert any changes you find and see if they help. You may want to:
Revert the titles
Revert meta descriptions
Remove thin or no-value pages
However, we also want you to open up the page's source code in your browser and look for any malicious coding or hidden links that you might have overlooked. If you're a victim of a site hack, you often won't realize that someone inserted malicious links on your site. What to Do If Your Site is Hacked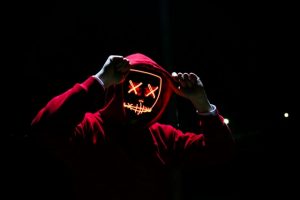 If you find that your site is hacked, you need to take quite a few corrective steps:
Work with your IT team to determine how the hacker gained access to the system. You need to be prepared to rectify this issue as soon as possible after you work through the other points on this list.
Restore the site to a pre-hack state, or if possible, work through the server to remove any backdoors, malicious files and links.
Patch the vulnerability that led to the hack.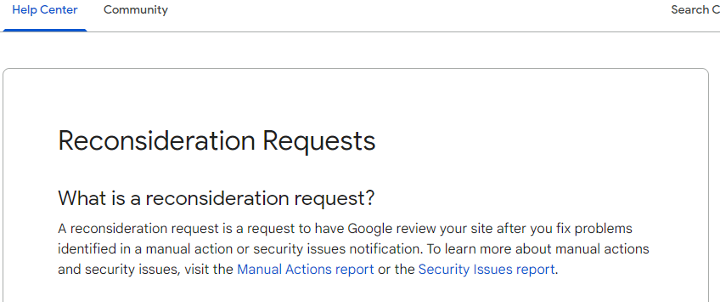 Once you have restored your site, you may want to send in a reconsideration request to Google. The reconsideration will bump your site up in Google's queue so that the team working there will review your site and restore the rankings. You can send in your reconsideration request here.
Step 5: Address Your Site's Technical Issues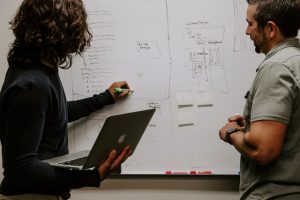 If you've made it this far, then you have a wealth of information about your site at your fingertips. You can use this information to find the real reason for your SEO rankings drop. Technical SEO is one area that we find goes underappreciated, although it's crucial to your site's success. If my website ranking dropped and I knew that I didn't make any substantial changes, I would start looking at my site's technical aspects. I would start with issues relating to crawling the site and moving to more complex issues.
Identify and Correct Crawling Issues
If I noticed that my Google ranking has dropped, one of the first things I would do is check to make sure that my site is being crawled by Google and that it's indexed. One of the easiest ways to find out if there are crawling issues is to go to Google Search Console.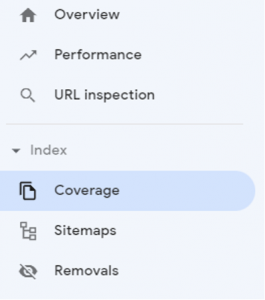 Now, click:
Hamburger icon
Go to Index
Click Coverage
Under Coverage, you'll see a list of errors, warnings and other information.

You'll want to click on the error list and see what errors are impacting your site. For example, one main error listed for this particular site is "Submitted URL marked 'noindex.'" Marking the page as indexable will help fix up the issue and lead to the page being indexed again. If you do not see key URLs listed in the error or valid tabs, you'll need to dig deep into your server's log files to see what's happening. Analyzing your log files is a complex process, especially if you have a massive site, but you'll want to look to see if crawlers are stalling because of:
You might even have issues with redirects causing your site to eat up its entire crawl budget. Note any anomalies in your crawl budget to see what changes you can make to rectify issues and get your pages recrawled.
What's Google Seeing?
An administrator may go overboard and block search engine bots from crawling your site and leading to massive ranking drops. If a certain page's rankings from Google disappear, try doing the following: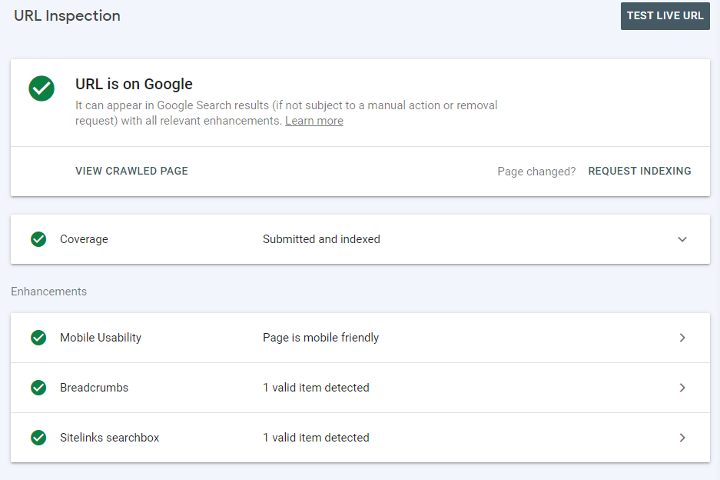 A URL inspection will provide you with a slew of crucial information, including:
If the URL is on Google
Coverage
Mobile usability
Breadcrumbs
Sitelinks searchbox
If you click on Coverage, you'll see additional information, such as the last time the page was crawled, if the page fetch was a success and if indexation is allowed. You can also view the crawled page. When the URL is not on Google, it will be listed as not being on Google. On the right side of the page, above the fold, you'll see a "Request Indexing" button. Once you remedy all of the issues on the page, request that the page be indexed and wait a day or so to see if it's now indexed. Utilizing this method saves you a ton of time digging through log files and trying to pinpoint an issue that may be responsible for your page(s) losing traffic or rankings. Next, we want to take a look at your page speed.

Verify That the Page Loads Fast
Pick one of the pages on your site that has disappeared from Google and run a page speed test on the page. You'll find dozens of speed test tools that you can use, but we recommend running Google's PageSpeed Insights. Run the tool to learn a variety of metrics about your site speed, and many of these are part of Core Web Vitals, such as:
First Contentful Paint
Largest Contentful Paint
Underneath the diagnostics settings, you'll find a variety of useful hints and tips that you can follow. These tips are better than we can recommend without seeing your site, and they're what we follow when trying to speed up pages on our own sites. Once you're done with these few technical recommendations that we have, it's time to check whether there have been any major changes on Google's end that are impacting your website's rankings.
Step 6: Google SERP or Core Updates
Every time a Google ranking dropped dramatically, it's important to realize that it may not have been something on your end that caused the issue. Google is a platform of its own, and they spend a lot of money and man-hours refining their site and search product. We recommend that you do the following in an effort not to drive yourself crazy scouring log files and Google Search Console data: Check for a Core Update Core updates occur sporadically throughout the year, and these are often major Google updates that can impact search queries. Thankfully, there are a lot of reputable sites and resources that will talk about updates based on what the community is experiencing. Oftentimes, the search community will notice a major swing in SERPs before Google alerts anyone of the changes. Here are a few places we recommend searching for updated information on:
You can also go on places such as Twitter or Reddit's /r/SEO to see if there's any buzz about a potential update or change that can be causing your rankings to fluctuate or drop completely. If you don't notice any major algorithm changes on Google's end, you may want to perform a manual search for your respective keyword. Oftentimes, Google makes changes to the way the SERPs are presented that will push your page further down in the search results. Note: If a core update impacts your site, you'll need to adapt to these changes to restore your rankings.
Step 7: Analyze Links and Take Action
Backlinks are one of the main reasons a site starts ranking for more competitive keywords, but spam links can wreak havoc on your site, too. Before we go any further, it's important to note that Google won't just penalize a site for spam links. In most cases, these links are ignored unless there's a willful intent to manipulate the search results. A recent 2022 example of this is below:
John replied:

It's up to you to disavow links that you feel might impact your site. However, keep in mind that tens of thousands of these bad links point to all major websites and to your competitors, too. Instead, you may want to:
Analyze your backlink portfolio
Note any lost high-quality links
Create content to generate new links
Update the content and work on getting organic links to these pages
Losing valuable links, especially if you have a small backlink portfolio, may be the culprit impacting your site. How can you get your backlinks back? There are a few ways, but first, update the content and refresh it with some new graphics and content. You can then:
Visit the page linking to yours in the past to see if it still exists
Share your new content with the site owner on social media
Email the webmaster if you have a relationship with them to share the link
You can also put the content into your current content marketing strategy to try and get new, organic links pointing to your site. You never want to reach out to a site owner and be pushy about the link and try forcing them to add your link back. Instead, be respectful and nice when contacting a site owner because no one owes you a link.
Step 8: Check for Manual Penalties
In most cases, you won't have your rankings from Google disappear because Google looks at your site as a whole. As John Mueller explains, if you make an honest mistake or think you're doing something for the good of your site users, you're likely not going to be penalized. However, if you think that you may have been penalized, do the following:
Go to Google Search Console
Click on the hamburger icon
Click on Security & Manual Actions
Click Manual actions

If no issues are detected, you can follow the rest of this section's advice to see if there's a penalty that's not being reported. Otherwise, you can click on the issues that Google detects, fix the issue and then send in a reconsideration request. Quick Note on Manual Penalties and Disavowing Links One of the times when John Mueller mentions using the disavow tool is when you know that you have a manual penalty that is linked-related. You can listen to the entire video above. Disavowing links must be tactical. The general rule of thumb is:
Would the spam team think this link is spam?
If so, disavow the links.
Checking If You Have a Manual Penalty Without GSC
If you want to see whether your site has a manual penalty, go to Google and type in: site: yoursitename.com.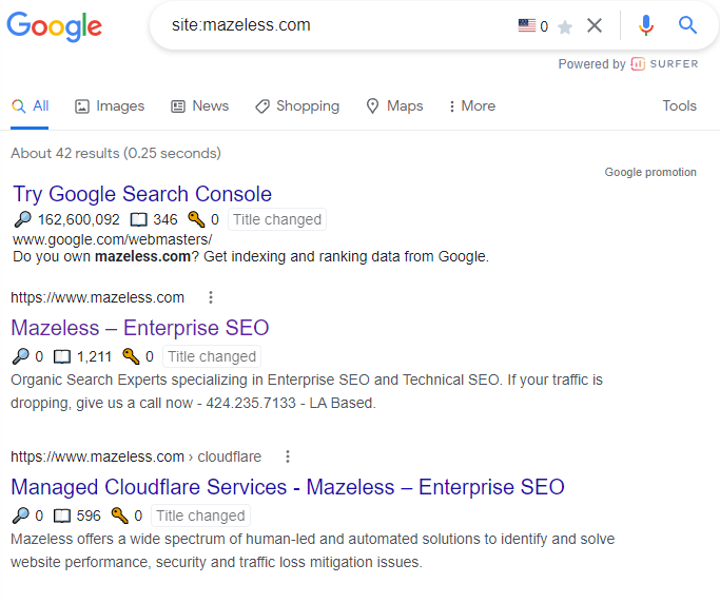 If your site isn't showing up using this query, you've found the reason your rankings from Google disappeared: your site is deindexed. If you just underwent a replatforming or made a major change to your site's server, this is the first place I would look for issues. Oftentimes, a configuration issue or even someone forgetting to change Robots.txt is the culprit. Thankfully, these are easy fixes. But before you go to these lengths, let's dig deeper into determining whether you have a penalty. You can have your rankings from Google disappear and still be indexed. We recommend:
Going to Google
Searching for branded queries
Searching for non-branded queries
A non-branded query may be "10-foot red widget model #100." If you should be ranking for this keyword and have in the past but aren't ranking any longer, there's a good chance that you've been hit with a manual Google penalty.
Step 9: Analyze Whether Competitors are Surpassing You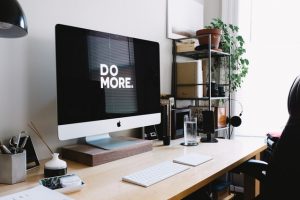 Oftentimes, there are sites that start, put out a lot of great content and are very active initially. We also see this happen with enterprise sites, which are known for having a lot of niche sites that they rank for timely products or to test the market. The company is often excited about the site, throws a bunch of resources at it and then, somewhere along the lines, the site is forgotten. If you fall into this category and just realize that your site lost its rankings, it may be your competition. You should:
Perform a few manual keyword searches
Look at the top-ranking sites
Try and find your own site
A few things may have happened if you're still active on your site and then your competition somehow caught up and just pushed your site down. Here are some of the things that may have happened and how to fix them:
You made a change, leading to an error, which allowed the competition to step into your position. For example, perhaps your .htaccess file was deleted, leading to key 301 redirects being lost and your rankings dropping.
You haven't updated the content on your site in a while, and it's now stale or even inaccurate. Spend time analyzing the competition's content to learn whether you have to adapt your content strategy to restore rankings.
Analyze your competitor's backlink portfolio to see if there have been any major movements in recent months.
Next, check your site's technical aspects and compare them to the competition. Is the user experience much better than your own? How about site speed?
If you add all of this information into a spreadsheet, you can then start formulating a plan to gain back some of your lost rankings. The plan may be as simple as refreshing pages that lost rankings to make them more in-depth and keyword-rich. In any niche worth being in, there will be competitors who aim to dethrone your site. Established sites, especially enterprises, have less to worry about because they're leagues above the competition in links, content, authority and so on. However, when another business comes along with deep pockets, they may have the resources to push these sites down further in the search results, greatly disrupting your rankings and revenue. If there's one thing that we recommend to prevent the competition from outworking you, it's to remain consistent. You must always assume that ranking from Google disappear overnight, so you need to stay ahead of the competition to maintain your rankings over the long term.
Step 10: Take a Look at Your User Engagement
User engagement is one of the hidden metrics that people seem to overlook when their Google ranking suddenly dropped. Open up your analytics and view the historical user engagement data to see:
If you're seeing that users are staying on your pages less and bouncing at a much higher rate, something is wrong. Before searching for "why has my Google ranking dropped" and freaking out, look to see if:
New ads are leading to lost users
Redirects are causing a loop or errors
The content changed in some way
It's not uncommon for enterprises to work with multiple teams trying to achieve the same goals. However, all it takes is one content manager or new member of the SEO team to make changes that impact rankings. Reviewing the user engagement on pages experiencing a traffic drop can shed a lot of light on why you've lost your search rankings. You also want to ensure that you're paying close attention to Core Web Vitals. John Mueller responded to a Reddit thread on Core Web Vitals with the following:

Step 11: Check for Algorithmic Penalties
Google relies heavily on artificial intelligence to manage its platform. Unfortunately, when penalties rely on AI, there are always issues that can arise, such as a site receiving a penalty when it's 100% legitimate and following all of the guidelines. If you've done everything you can to learn why your ranking dropped in Google and have come up empty, you may be a victim of the rare algorithmic penalty. A few things to keep in mind with these penalties are:
Many penalties of this nature don't show up in Google Search Console, but you will notice your Google ranking dropped across the board.
You'll likely want to send Google a reconsideration request, which will speed up the process of returning your rankings.
Of course, you only want to send in a reconsideration when you've made changes to your site or you're 100% positive that the penalty is an error. We recommend going through each of the previous steps we've outlined with a fine-tooth comb to ensure that you didn't miss a small issue, such as a redirect loop, which is causing your ranking loss. When all else fails and you've done everything else you can to fix the issue that may contribute to the reason why your Google ranking dropped dramatically, work with professionals like us. Our team has experience with:
Working on enterprise-level sites
Restoring lost rankings
Technical SEO issues
Much more
We'll help restore your Google rankings and increase them, too. Do you still have questions and are wondering why "my Google ranking suddenly dropped?" We've outlined some of the most common questions we get from clients who have experienced the same drop in organic traffic as you have.
Other Things to Check That May Cause SEO Ranking Drops
If you've worked through the 11 steps above, you're well on your way to restoring your rankings. However, there are a few things that didn't really fit into the step format that may cause rankings from Google to disappear. A few of the things that we want to touch on are listed below:
SEM Cannibalization
Sometimes, you're receiving a lot less traffic from search, yet your rankings are relatively the same. When this happens, there's often a disconnect between teams, and your business is spending money for traffic when it doesn't warrant it. For example, a common scenario we see a lot is that a client is receiving less organic traffic, so we dig in and find:
Paid advertisements outranking organic results
Traffic cannibalization
Since paid advertisements are higher in the SERPs, people are clicking on the site's ads and not the organic result, which may be one or two positions below. You'll need to work with the advertising team to pause PPC campaigns for keywords that you already rank highly for organically.
User Intent Changes
Google uses user intent to rank queries and change the search results. If user intent changes over time, your site's time in the spotlight may come to an end and will need to be reestablished. You'll need to change a few things here to try and get some of your traffic market share back:
Adjust your titles to increase clicks
Rewrite meta descriptions
Update content to align with the new user intent
Search engines aim to provide the best content possible for a search query. If you update your content to be the best and match the new user intent, you'll be well on your way to restoring your rankings.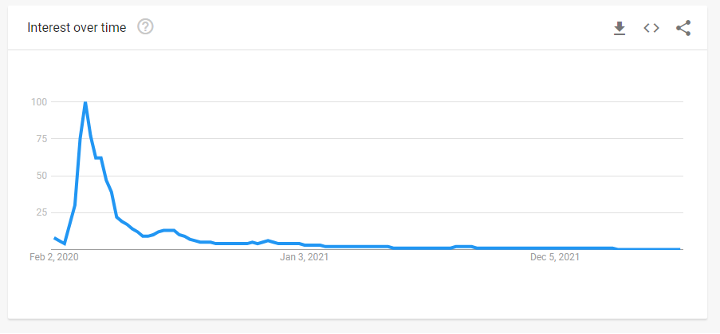 Queries May Be Volatile
Search queries can be evergreen or timely. For example, when the pandemic first began, a lot of sites capitalized on keywords relating to the pandemic. However, now over two years later, many of these sites have lost their organic traffic. There are two main reasons for a query being volatile, including:
Timeliness. Google understands search intent, and if the term is timely, it's crucial to update the content often. There are also some terms that may be popular for a month before the search volume falls 90% or more.
Confidence. Google wants to provide accurate information to queries, and if the search intent changes, the rankings will change, too.
You'll want to analyze your keywords across the board when this volatility occurs. If you notice that a cluster of keywords has lost rankings and most other keywords are fine, you may have a volatile keyword that you're focusing on, and there may just not be many people searching for this keyword any longer. Keyword tools such as Ahrefs will allow you to see how the keyword's search volume has changed over time.
Frequently Asked Questions
Why Does My Google Ranking Keep Changing?
Google, and all search engines, want the best for their users. Daily, there are teams of engineers working to change the internal ranking algorithm to ensure the best user experience possible when using the site. Additionally, you're not the only website trying to rank pages. Competitors may be outworking you by:
Creating more content
Getting more links
If you've abandoned your site or don't update it often, it may be that others are pushing your rankings down. So, why do your rankings keep changing?
Rankings can fluctuate from country to country
Competitors may be working to gain positions in the search results
Search engines may be tweaking their algorithms
So much more
You may also have an issue with your site, such as a technical SEO issue, that occurs after replatforming that you don't even realize exists. In this case, correcting any errors usually leads to restored rankings.
Why Has My Website Dropped Off Google?
Google rankings fall. SEO experts are in business because working to keep your position in Google is an ongoing battle. When you say "dropped off," what does this mean?
Did your site lose 10 or 20 positions in a search query?
Did your rankings from Google disappear completely?
If you're not ranking #3 for a query any longer but #23, there are just so many factors involved to pinpoint when you lost rankings without analyzing your site. Ideally, you'll want to go through all of the steps outlined in the main section of this article to restore your rankings completely.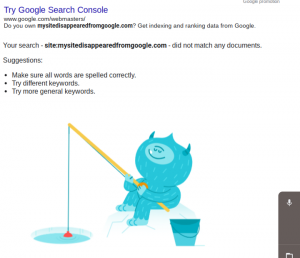 Why Has My Site Disappeared from Google Search?
If your site "disappeared from Google" completely, you've been deindexed. A few of the main issues for a complete loss of rankings include:
Penalty. Is your site following Google's quality guidelines? Your site may be penalized for creating pages specifically for search engines, deceiving users, using black hat tactics, having duplicate or stolen content and more. Review all of Google's guidelines and make changes to try and correct the issue.
Server issues. Did you recently update your server or replatform? If so, you may have a technical issue that is blocking Google's crawlers from accessing your website.
Hacked. Your site may have been hacked, leading to someone hijacking your traffic or completely dismantling the hard work that you put into your site.
A gradual loss in traffic before your site disappearing from Google is often from changes that you're making to your site. Suddenly disappearing from the search results can be something as simple as disallowing all user-agents in your robots.txt file or a Google penalty. The first step we recommend before going completely mad trying to dissect your site is to log into your Google Search Console and go to Index > Coverage. From here, you'll see:
Errors
Valid with errors
Excluded URLs
And you'll also gain valuable insight into the errors that Google has found, such as status codes and the type of errors that exist. Correcting these issues may be all you need to do to recover from a site disappearing from search engines completely.

How Often Does Google Update Their Algorithm?
Many platforms try and track Google updates, such as Moz. You can go crazy checking for updates because there may be many pushed live each month. The good news is that many of these changes won't be the reason your SEO ranking dropped. Updates may be:
The key updates that you should be concerned about are core updates. Major core updates occur once every month to three months, but this can vary drastically from one year to the next. In fact, it's estimated that there are 500 to 600 changes to Google's algorithm each year. Fortunately, many of these changes will not be the reason your Google ranking dropped dramatically because they're minor updates. Remember that Google has tens of thousands of software engineers working for them. Many of these engineers work on non-search products, but many still work on the company's search algorithm. And what's their job? Make updates to Google to enhance the user experience. No one truly knows how many core updates will occur each year, but a general rule of thumb is one to four may occur each year.
How Long Will It take to Recover If My Google Ranking Dropped Suddenly?
Unfortunately, if your Google rankings dropped, there's no concrete number on how long it will take to recover your rankings. You may recover rankings in a month, or it may take 90+ days to recover. In extensive circumstances, it may take up to six months to fix your rankings. Thankfully, if you take the right measures and follow the guidelines above, you can recover from an SEO ranking drop faster. The key is to take the proper corrective action to remedy the reason for your lost organic traffic.