Performance is crucial to your business' success. At Mazeless, we work diligently with client's on-site migrations, web and SEO audits, ADA compliance, web governance, and our specialty, technical SEO. Our solutions are timeless and won't be impacted by industry changes or Google updates. Our team's wealth of experience in technical SEO adds to our ability to migrate a site with as little downtime and hiccups as possible along the way. We start with scalable solutions, integrate automation when possible, and work closely with your team to better understand your business.
We recently received our latest 5-star rated review on Clutch, a B2B ratings and reviews platform. After migrating their site, a garments printing company felt something was wrong as their online traffic was slowly going down, and new leads were hard to come by.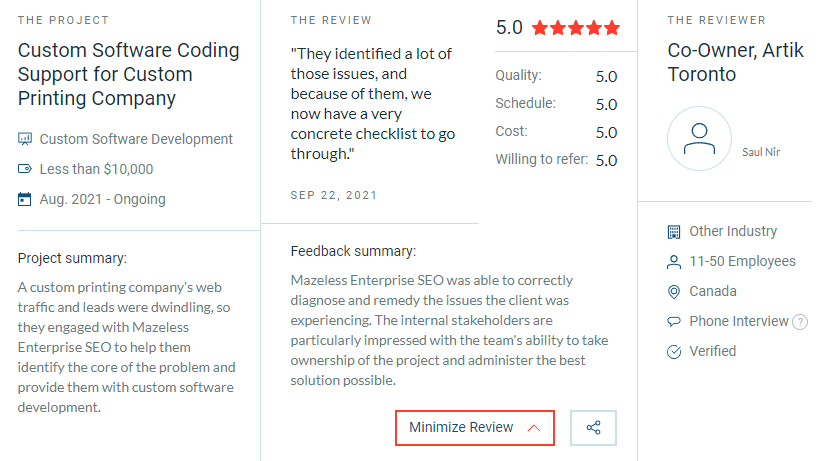 We helped the company by investigating their website and reporting our findings to the client. There were a lot of deep-seated issues with coding making the website lose visibility. We also found security issues, and we're working with the client's developer to fix the known problems. We will also provide SEO services and Cloudflare migration. Here's what they had to say about working with us:
"The Mazeless Enterprise SEO team was the one who made the correct diagnosis of why we were losing traffic. They identified a lot of those issues, and because of them, we now have a very concrete checklist to go through. They find problems with the site migration and I like that they don't just say yes to everything — they let us know what they can and can't do." – Saul Nir, Co-Owner, Artik Toronto
In addition to this excellent review, we are also highlighted on Top Design Firms as a leading SEO company. TDF is a sister company to Clutch, a top resource for buyers looking to find top designers, marketing companies, and developers specializing in various industries.
It's always a delightful feeling to receive such a lovely review from our clients. We always drive ourselves to give quality services to our clients, and we are thrilled to see them succeed in their endeavors.
Let our team's expertise bring your site's vision to life. Fill the contact form with your details and specify the services you're interested in, and our manager will contact you in no time at all.